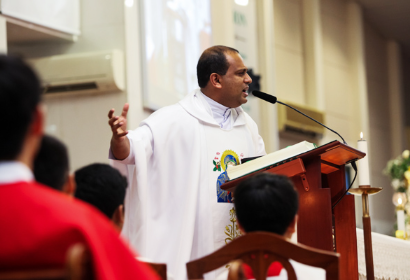 In the year 2007 we purchased a property consisting of 19 acres of land and an old house. This is 400 kilometres away from Kappadu in the north of Kerala, within the parish of Mandapam and in the Archdiocese of Thalasserry. A small monastery was built there in the year 2009, with all the necessary conveniences for a community of fifteen to twenty. At present there are 3 monks and 10 postulants (first year students) staying there. The monks are Fr. Reji Mundaplackal, who is the superior and the incharge of the estate, Fr. Aloysius Njarakkattu the procurator and Fr Darees Uzhuthianamalayil who in charge of the postulants.
Postal Address:
St. Basils Benedictine Monastery
Mandapam P.O, Chittarickal
Kasargod District, Kerala, 671 326.
Contact:
Land phone: 0467 2223181
Fr. Reji Mundaplackal: +91 9496627008; +91 9207939023
Fr Aloysius Njarakkattu: +91 9287592066
Fr Darees Uzhuthinamalayil: +91 8281335508; +918156993637